Evan Robson
Evan's educational journey has taken him from Dunedin Teachers College to intermediates, country schools, large town schools, rural advisory and finally to overseas international school leadership experience and writing international school curriculum.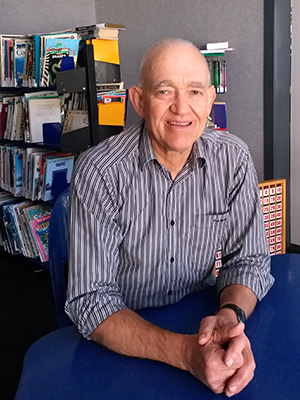 He looked at each new school as a new experience, a new challenge and the importance of making a positive impact.
Evan has been in senior management roles for 25 of his 41 years in education. When he finished as a principal at Raureka School Hastings (U5) he left for international school experience to set up and lead the Prep School (Yrs 6-8) at Harrow International School Bangkok. He returned to New Zealand in 2011 to go back to his country school roots as principal of Orere Point School in coastal South Auckland. He retired in December 2016 and has just spent 6 months in Beijing writing international school curriculum based on 'Wisdom for Life' ways of learning and leadership attributes utilising cross curricular planning.
Now back in the Hawkes Bay where he has spent the majority of his teaching career he is keen to bring his experience and leadership beliefs to primary schools in the 'Bay' with KEA Education consultancy services. He has a strong affinity for the rural country schools and the issues and challenges they face. Developing a strong school culture that enhances the enjoyment of teaching and learning and involving the local community at all opportunities is a key focus.
Curriculum manageability is also a key focus and interest. In 2006 he was awarded a NZPTA Study Award to finish his M.ED with a thesis on Curriculum Manageability in Primary Schools involving data from Hawkes Bay schools. He was also involved in setting up the first Community of Learning in the Waikato based at Hauraki Plains College.
Evan has had a huge interest and involvement in coaching/ organising sport at all his schools and Hawkes Bay age groups. He has also served on numerous sporting committees and represented Hawkes Bay and Southland in squash.
---
Contact Evan Robson - This email address is being protected from spambots. You need JavaScript enabled to view it.
---